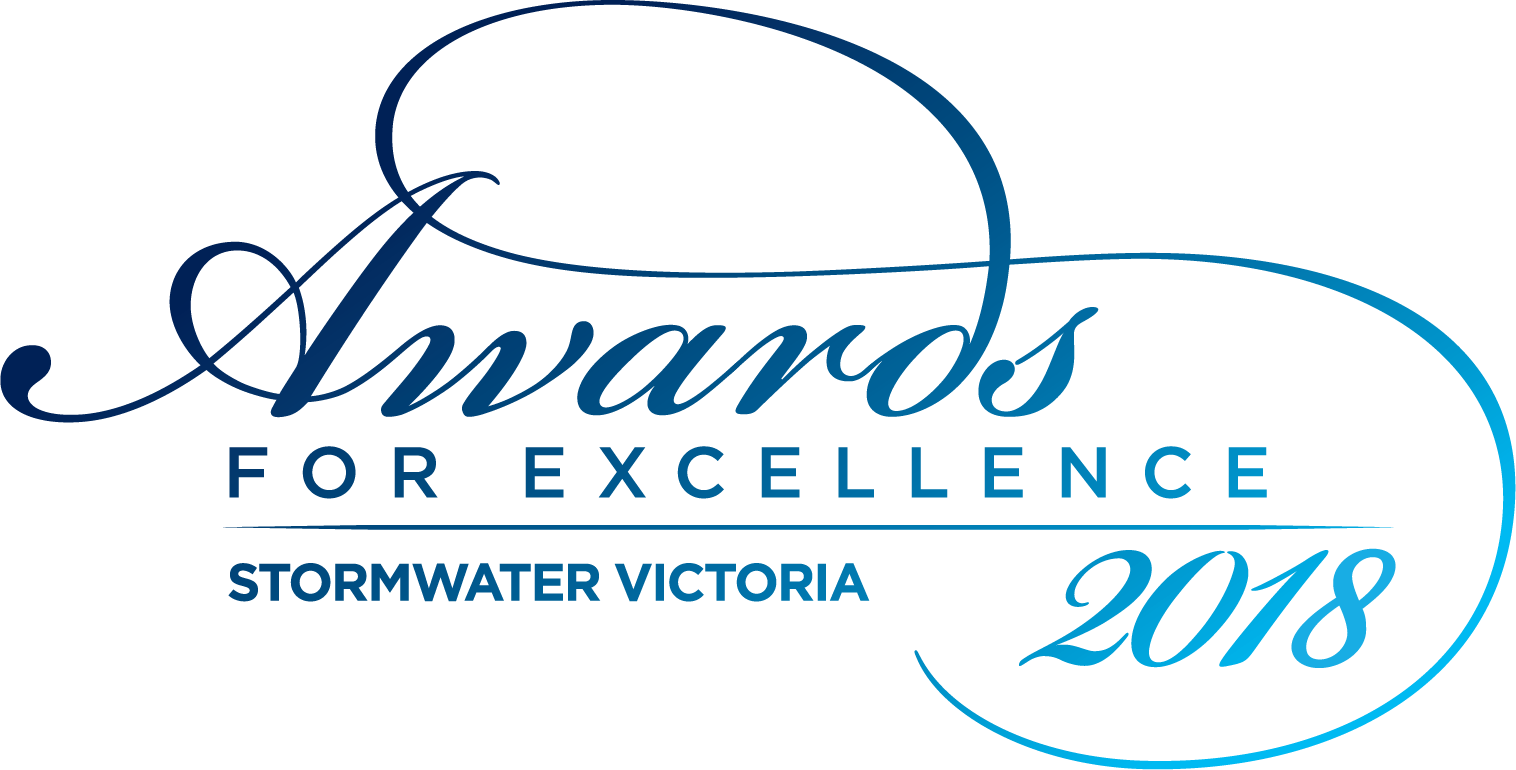 2018 Stormwater Victoria Awards for Excellence
The Stormwater Victoria Awards for Excellence are conducted to encourage and celebrate excellence in the innovation, development, completion and management of stormwater projects and the people involved.
The 2018 Stormwater Victoria Awards for Excellence will be presented at the 2018 Conference Dinner on the evening of Wednesday, 6th June at the Sheraton Melbourne Hotel.
Why Should You Enter?
There are many benefits of winning a Stormwater Victoria Award for Excellence, including:
Recognition of the Project's excellence
Showcasing and promoting the project, people and organisations involved
Demonstrating to all stakeholders that your organisation is a leader in its field
Recognising the personal achievements of your staff involved in the project
Ongoing promotion including media coverage
Having the Award proudly on display within your organisation
Providing an example of excellence that can be advocated and promoted elsewhere
Entry to the National Stormwater Awards for Excellence for 2017 – 2018, to be presented at the Stormwater National Awards for Excellence Dinner to be held in Sydney in October 2018.


Entries for the 2018 Stormwater Victoria Awards for Excellence are now invited.
The award categories for the 2018 Awards for Excellence are:
Excellence in Strategic or Master Planning
Excellence in Infrastructure
Excellence in Asset Management
Excellence in Research and Innovation
Excellence in Policy or Education
Excellence in Integrated Stormwater Design


Entries are not constrained by project or organisation size and will be judged on their merits. The entry fee is $125 for Stormwater Victoria Members and $250 for Non Members. For more information about the Awards for Excellence and the judging criteria for each category, please download the 2018 Awards for Excellence Kit below.
To submit your entry for the 2018 Awards for Excellence, please download and complete the Entry Form below.
Entries must conform to the submission format, contain all the required information, meet the eligibility requirements and accept the Conditions of Entry. Completed entry forms must be submitted electronically in Microsoft Word format to This email address is being protected from spambots. You need JavaScript enabled to view it..
For further information, please click here.
Entries must be received by COB Monday, 9th April, 2018.
Stormwater Victoria would like to congratulate the winners of the 2016 Stormwater Victoria Awards for Excellence.
---
EXCELLENCE IN RESEARCH AND INNOVATION
HIGHLY COMMENDED
Project: Geelong CBD Flood Mapping and Mitigation
Entrants: Water Technology Pty Ltd and City of Greater Geelong Council
The Geelong CBD Flood Study (as part of the Geelong Central Action Plan) is an exemplar example of utilising the latest technologies and data-collation techniques to ensure flood risks are reduced through the formation of a methodology for collating post flood event data and information in lieu of gauging data.
WINNER
Project: Market Based Instrument to Maximise Environmental Benefit of Rainwater Tanks in Dobsons Creek
Entrants: Melbourne Water, Waterway Ecosystem Research Group, Melbourne University, South East Water, Knox City Council and Marsden Jacob Associates.
Melbourne Water used an innovative bidding system seeking contributions from households within The Basin for the installation of specially designed rainwater tanks on their properties. Capturing rainwater reduces pollutants and damaging stormwater discharges into Dobsons Creek while saving on water bills. The bids maximises environmental benefit for a limited budget.
---
EXCELLENCE IN STRATEGIC OR MASTER PLANNING
This year the Judges have decided that two projects were deserving of an Award for Excellence so we have Joint Winners, the first being:
WINNER
Project: Linking Geomorphology and Drainage System Design to Protect High Value Waterways
Entrants: Alluvium Consulting Australia and Melbourne Water Corporation
Alluvium and Melbourne Water have developed an innovative approach to enhance sustainable waterway management in geomorphically fragile and challenging greenfield development landscapes. The approach moves beyond best practice waterway and stormwater planning and design, to truly account for and protect high value waterways from accelerated erosion triggered by stormwater flows.
WINNER
Project: Stony Creek Upper Transformation Project
Entrants: City West Water Corporation, Greenfleet Australia, Brimbank City Council, Melbourne Water Corporation, Urban Renewal Authority Victoria (Trading as Places Victoria), Department of Environment, land, Water and Planning
The transformation of Stony Creek Upper is a concept to remove a concrete supercritical channel and naturalise the creek with re-vegetation works, a shared path for walking and cycling and allows for the existing retarding basin to be converted into a wetland and stormwater harvesting pond for local uses.
---
EXCELLENCE IN POLICY OR EDUCATION
WINNER
Project: Green-Blue Ballarat Action Plan
Entrants: City of Ballarat, E2Designlab, Aspect Studios, Department of Environment, Land, Water and Planning
The green-blue Ballarat action plan sets out a new direction for the city of Ballarat, where urban greening and stormwater management initiatives are managed in tandem, creating urban landscapes which are both beautiful and resilient. A highly collaborative plan, it holistically addresses past barriers while inspiring new opportunities.
---
EXCELLENCE IN INTEGRATED STORMWATER DESIGN
WINNER
Project: Warralily/Armstrong Creek Wetland and Creek System – Stages 2A-2F
Entrants: Armstrong Creek Development Corporation Pty Ltd, Newland Developers Pty Ltd, GbLA Landscape Architects Pty ltd, City of Greater Geelong, SMEC Australia Pty Ltd, Neil M Craigie Pty Ltd, Australian Ecosystems Pty Ltd and Programmed Turnpoint Pty Ltd
The rehabilitation and re-construction of the 2.8km of the degraded Armstrong Creek corridor through Newland Developers'Warralily, Connewarre development is an examplar of integrated stormwater management in Greenfield development. The project represents a significant economic, social and environmental contribution to the local environment and community that cannot be understated.
---